Cluny Sheppard was a true entrepreneur
Notre Dame Agencies (NDA) and their over 100 employees are part of the fabric of most communities across Newfoundland and Labrador with ten Castle Building Centres locations plus an ecommerce store, two Recreation Centres, seven Home Furnishing Centres, one Truss manufacturing plant, and one land development company.
NDA was incorporated in 1952 and acquired by Cluny Sheppard in 1975. An essential member of his team from the beginning, his wife Golda was also the store's interior decorator. Cluny Sheppard was Chairman of the Board. His four daughters now live and breathe the business and carry on his entrepreneurial spirt: Tina Belbin as President; Jennifer Welsh as Vice President Building Supply Division; Ann Marie Hodder as Vice President Furniture & Recreation Division; and Lorna Sargent as Vice President Operations. As well, sons-in-law, Kirk Hodder as Marketing Manager, and Scott Belbin as CGA/Controller. Here's their story from today, back to the 70's.
Notre Dame Agencies celebrates its 70th Anniversary!
2022
Official Opening of New Robin's Coffee Shop in Twillingate, NL
2021
Notre Dame Castle Launched its first hardware and building materials Ecommerce Catalog.
2018
Acquired and opened Notre Dame Castle Springdale, formerly Warr's Hardware. Warr's began in 1902 as a logging and sawmill operation and over the decades grew into a full-service lumber, building materials and hardware, and became the go-to retail location for contractors, do-it-yourselfers and consumers.
Opened large location for Notre Dame Home Funishings Grand Falls Windsor on 28a Duggan Street.
Recipient of ABSDA Lifetime Membership award.
2017
Opened largest retail location to date on 15 Catalina Drive for Notre Dame Castle Gander and Notre Dame Home Funishings.
2014
Opened the Notre Dame Truss Plant in Grand Falls Windsor, as a member of the Castle Buying Group.
2013
Built new location for Notre Dame Recreation Lewisporte on 1 Forward Drive.
2012
Builds new Notre Dame Home Furnishings Clarenville location on 4 Shoal Harbor Drive.
Opened Notre Dame Roof Truss Plant in Grand Falls Windsor.
2011
Built new location for Notre Dame Home Furnishings in Twillingate.
2010
Lorna Sargent joins NDA.
2009
Cluny Sheppard is inducted into the Junior Achievement Business Hall of Fame.
2006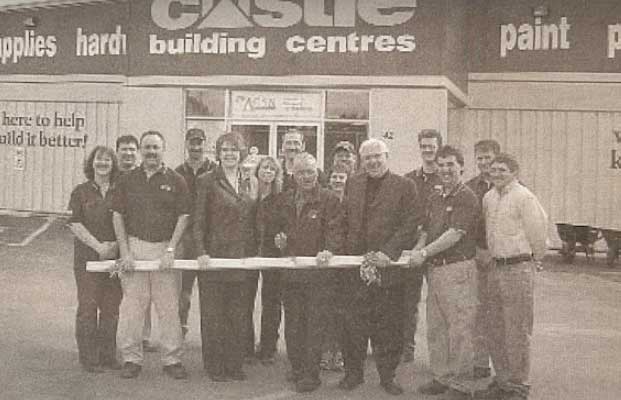 Opening Notre Dame Castle Clarenville on 42 Manitoba Drive.
2003
Opened Notre Dame Castle Clarenville on 42 Manatoba Drive.
Ann Marie Hodder and Kirk Hodder Join NDA.
2003
Opened Notre Dame Castle Port Aux Basque and Notre Dame Home Funishings Port Aux Basque on 34 Grand Bay West Road.
2001
Opened Notre Dame Castle Corner Brook on 408 O'Connell Drive.
Moved Notre Dame Castle Twillingate to larger location on Toulinget Street.
2000
Grand opening celebration for Grand falls Castle, Furniture, Gander Building Supplies and Pound Cove.
Ranked in the top 100 hardware businesses in Canada, 70
Atlantic Progress business magazine "Top 101",
and 51 in Canadian Hardware Merchandising magazine.
1999
NDA begins a residential development in Grand Falls Windsor called Grenfell Estates.
Acquired and opened Notre Dame Castle Gander, formerly Granville Home Hardware.
Notre Dame Agencies had a building supplies and furniture presence in Grand Falls-Windsor that shared one location. In 1998 it grew by separating both locations and renovating both stores. NDA acquired and opened Notre Dame Castle Grand Falls Windsor, formerly Exploits Building Supplies. The location on 4 Duggan Street was converted into one of the largest furniture and appliance retail outlets in central Newfoundland with approximately 12,000 square feet of showroom space, solely dedicated to Notre Dame Home Furnishings Grand Falls Windsor.
1998
Jennifer Welsh joins NDA.
Purchased Pound Cove from Louis Briffett's and Sons Hardware. Purchased Gander Building Supplies location from Granville's Home Hardware.
1997
Notre Dame Castle Pound Cove, formerly Briffetts & Sons hardware store in New-Wes Valley, operates as a building centre and hardware store.
1996
Tina and Scott Belbin join NDA.
1993
Purchased Fitz Appliances in Goose Bay for Furniture store.
1991
Notre Dame Agencies invests in computer technology, initially to support office work. By 1991 the entire operation of the business was integrated into the computer system - spearheaded by Scott Belbin and with strategic partners Acceo Solutions Inc. (formerly OGC). Systems integration was critical to productivity, success and keeping competitive.
1989
New Notre Dame Castle Twillingate and new Notre Dame Home Furnishings Twillingate opened its doors.
1988
Acquired and opened Notre Dame Castle Happy Valley-Goose Bay, Labrador, formerly Snelgrove's Home Hardware, as a building supplies and hardware location. It became one of the largest retail businesses in the area. In addition to Notre Dame Castle, the location sold furniture and appliances as Notre Dame Home Furnishings Goose Bay and, recreational products as Notre Dame Recreation Goose Bay.
1985
Acquired and opened Notre Dame Castle Grand Falls Windsor, formerly Central Building Supplies and share the space with Notre Dame Home Furnishings Grand Falls Windsor (where the current furniture and appliances outlet is housed).
1983
Purchased Happy Valley Goose Bay from Snelgrove's Home Hardware.
1982
Notre Dame Agencies built a new large store to house Notre Dame Home Furnishings and Recreation. Notre Dame Castle Lewisporte took over all the space of the original location to sell lumber, building supplies and hardware.
1981
Purchased Central Building Supplies on 6 Duggan street for Castle Building.
1980
Notre Dame Agencies Lewisporte moved from downtown to a larger facility on Main Street and bought Lewisporte woodworkers for the new Notre Dame Castle store.
Received an award for the most ski-doos sold in one store - 400!
1979
Notre Dame Home Furnishings opened its second location in Gander, offering home furniture and appliances.
1976
Cluny Sheppard acquired the store he managed in Lewisporte. It was his first Notre Dame Agencies store. For access to competitive pricing and national vendors, he became a member of Castle Building Centres buying group. Retail product lines were lumber and building materials and grew to include electronics, furniture and recreational items.
1975
Notre Dame Agencies moved to 174 Main Street (current Home Hardware).
1974
Working in business before Cluny bought – Nurk Atkinson (started 1973), Francis Snow (there from the beginning), Darrell Budden, Calvert Burry.
1973
Cluny Sheppard is manager of a plumbing and heating business in downtown Lewisporte.
Barwood Holdings bought the business and ran a retail store – Hal Barrett and Birch Wedgewood.
Cluny Sheppard becomes manager of Notre Dame Agencies.
1972
Joseph Wilanski moved back to Lewisporte from Montreal and opens riffs in Lewisporte (was friends with Jimmy Riff who had stores in GF) it was a riffs association store. The business name was F Wilansky Ltd (F for Freda his wife). Cluny started as a stock boy, moved to the men's department by age 18 and then was manager of the furniture department when he was 19.
16-26 years old working with Riff (Mr. Wilansky).
1962-1972
Notre Dame Agencies is incorporated. Founded in 1952 by Lloyd Noble, Ted Carpenter, Harold Starkes, and Harry Starkes as a plumbing and heating business in downtown Lewisporte (143 Main Street – now Ship Shape Fitness, was Brown's Limited).
Grade 9 Cluny left school and started selling newspapers.
1952